BandLuxe E600 Series ODU outdoor unit
Outdoor LTE Modem/CPE with Embedded High-Gain MIMO Antenna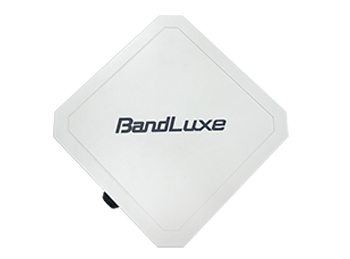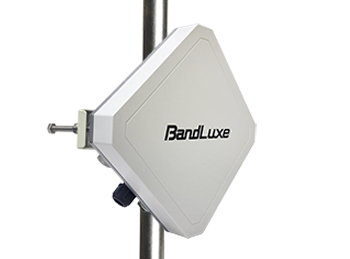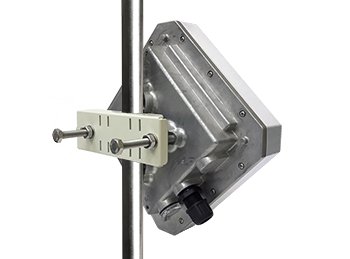 BandLuxe E600/E600A series Outdoor CPE aims to bring superb LTE high-speed quality to your residential and business buildings, when a fixed line is difficult to reach either in urban or rural areas. Embedded with high gain MIMO directional antenna, BandLuxe E600 outdoor CPE can provide coverage enhancement for more than 20-40 dB (antenna gain plus wall penetration and position gain) compared to indoor devices. It is idea cost saving (in an intelligent calculation, the E600 series is much more cost effective in per-bit data delivery) and RF power saving solution for operator to rollout broad info-pipe to rural residential/SOHO and urban business buildings as well.
BandLuxe E600/E600A series is equipped with a smartly designed mounting kit. It allows easy adjustment of horizontal azimuth and vertical tilt of antenna for the best receiving signal and transmitting path two-way between the BTS and the device. This tunable design has significantly saved the RF power waste in the air and achieved higher spectrum efficiency.
Housed in a ruggedized shelter box, the E600/E600A series is designed to weather both regular and harsh outdoor conditions. It is IP66 grade compliant for dust and water proof; it is ruggedized to pass wind tunnel test up to category 4. The outdoor robust multi-purposed design allows the device to operate well in varying temperatures between -40°C to 65°C (-40°F to 149°F).


E600
Cellular Modem: Embedded, 3GPP Rel 10, LTE Advance FDD&TDD
Dimension: 247 (L) x 247 (W) x 107 (H) mm
Weight: 1.5kg
Water resistant IP code: IP66
Cellular Connectivity and Data Speed
E600 LTE Band: B1, B2, B3, B4, B5, B7, B12, B13, B20, B25, B26, B29, B30, B41
E600A LTE Band: B1, B3, B5, B7, B8, B18, B19, B21, B28, B38, B39, B40, B41
LTE Bandwidth: Up to 40 MHz (2 CA)
LTE Data Rate: (FDD) Downlink up to 300 Mbps Uplink up to 50 Mbps,
(TDD) Downlink up to 222Mbps Uplink up to 26Mbps
Antenna
Antenna Type: Embedded tri-band directional antenna
Cellular Main Antenna: Yes
Cellular Diversity Antenna: Yes
LTE MIMO: Downlink 2x2
Router Features
Security: Multiple VPN pass-through (IPSec, PPTP, L2TP), Stateless and SPI Firewall, Internet Filter, Web Filter
NAT-NAPT: Single Port Forwarding, Port Range Forwarding, Port Range Triggering, Port Filtering, IP Filtering, DMZ, UPnP, Multicast Pass-Through
DNS: DNS Agent, DDNS
Other features: IPv4 and IPv6, TCP, UDP, ICMP, ARP, DHCP Server/Client, DHCP Reservation, HTTP/HTTPs, NTP, ALGs
Software Features
CPE Operation Mode: Router mode / Bridge mode
Connection Status in Web GUI: Network name, Signal strength, Roaming indication, Radio technology, Radio network parameters, Connection status, Connection time, Connection Statistics
Connection management: Connection on demand, Auto Connection, Auto APN matching with USIM, APN database update through browser-based GUI, APN profile, PIN management, Preferred radio network type selection
Support FW version upgrade: Yes
Device Management: TR-069, SNMP, Remote GUI Log-in
System Protection: Two types of user account: User and Operator. Every user account has his own password protected mechanism
Browser-based Admistration GUI: Browser supported: IE, Firefox, Safari, Chrome
Browser-based Admistration GUI Multi-Language Support: English
Power Input
Passive Power over Ethernet (PPoE): 48V Passive PoE input power
Accessories
Passive Power over Ethernet Adapter: Giga RJ-45x2 (Data In x 1, Data & Power Out x 1) 48V/1A
Mounting Bracket: Fixture (match to the back design) and screws to mount on pole. Left-right rotatable
30-meter Ethernet cable (Optional): Outdoor grade Ethernet cable with water-proof RJ-45 head at one end
15-meter Ethernet cable (Optional): Outdoor grade Ethernet cable with water-proof RJ-45 head at one end
Environment
Operation Temperature ( Excluding Power adaptor): -40°C to 65°C (-40°F to 149°F)
Power Adaptor Operation Temperature: 0°C to 40°C (32°F to 104°F)
Storage Temperature: -40°C to 70°C (-40°F to 158°F)
Operating Humidity: 5% to 90% Non-Condensing
Storage Humidity: 5% to 95% Non-Condensing
Certification and Conformance